regional programs
Portland, OR
Portland Regional Program & High School Teen Board of Directors Portland is the first Beyond Differences Regional Program to operate outside of California. An outpouring of support from Portland middle schools, the Portland Public Schools Superintendent, parents, and students have contributed to its ongoing success. Portland serves as a blueprint for expanding to new regions across the country.
The Portland Regional Program & High School Teen Board was launched in 2016/2017 school year with 53 teens participating as members over the last five years. With the support of the Joseph E. Weston Public Foundation, Beyond Differences increased its impact on youth in Portland in a more concentrated way.
Our Portland Teen Board of Directors are high school students attending 9th – 12th grades in various schools throughout Portland. Beyond Differences supports Portland area teens, teachers and middle school age youth through our Social-Emotional Learning (SEL) curriculum and in a deeper way through student-led presentations, educator coaching/training and once the pandemic hit through online Zoom Teen Board meetings and by zooming into the classroom. 
Teens and older middle school students use their leadership skills and become role models for their younger middle school peers in creating cultures of inclusion and reducing social isolation.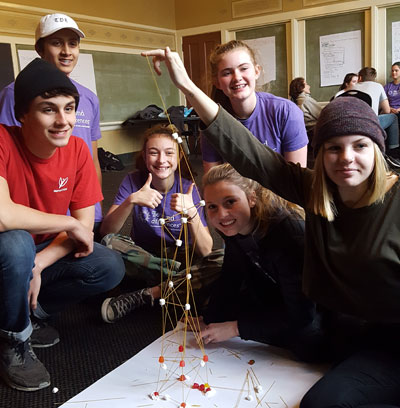 Through Beyond Differences Student Leaders: 
Gain Social-Emotional skills (SEL) 

Receive training on public speaking and leadership

Learn how to be a social isolation disruptors 

Become Mentors and Role Models (of older youth towards younger youth) 

Meet other youth leaders from different schools 

Become part of a national organization working to end social isolation and create inclusive school environments where all youth feel a sense of belonging. 

Participate in Community Service Events and speak at Youth Leadership  Conferences 
Are you interested in having students from Beyond Differences youth leadership program come to your school? 

(in-person or over Zoom)
Contact Anna directly for school assembly or class presentations on ending social isolation & loneliness and creating a culture of belonging at your school or if you'd like staff and youth in our program to lead a lesson from our SEL curriculum.
Anna Sanders, Regional Director of Student Programs in Portland at: annas@beyonddifferences.org  Phone: 971-404-9437
Portland Partner Middle Schools
West Sylvan Middle School