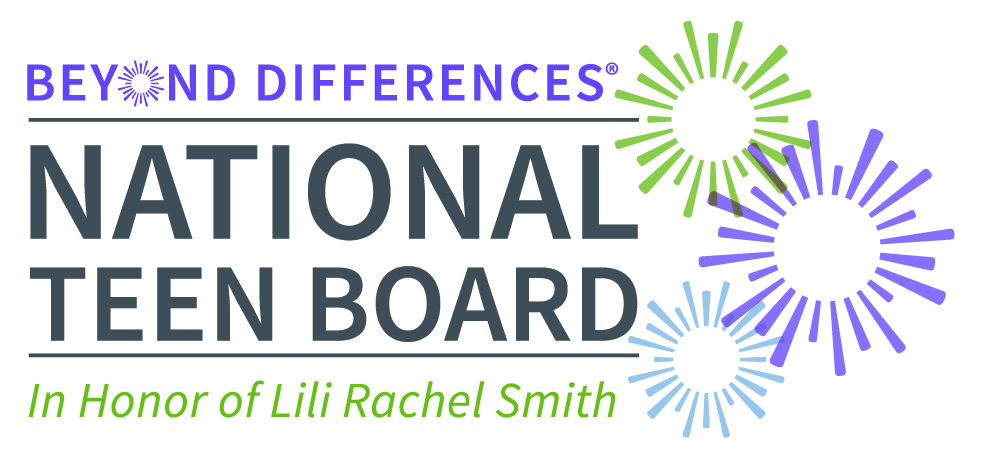 What is the
Beyond Differences
National Teen Board?
Beyond Differences is a student-led social justice movement dedicated to inspiring and empowering students to end social isolation and create cultures of belonging for everyone. We are building a future where all youth are accepted, valued, and included, and all of
our differences are celebrated.
The National Teen Board (NTB) is a dynamic network of passionate high school activists from across the country leading Beyond Differences' fight to stop social isolation through youth leadership and social justice.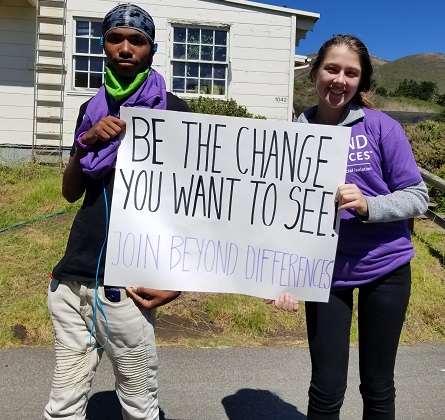 BEYOND DIFFERENCES
NATIONAL TEEN BOARD ACTIVISTS
Use the power of their voices
Create safe spaces for all
How do National Teen Board Members use their voices?
Through quarterly Power Up Conferences, speaking engagements, and national projects and Activist Academy, National Teen Board members work with inspiring, activist luminaries who are on the forefront of ending social isolation and marginalization across the globe.
Janae Johnson poet, community organizer, curator and teaching artist.
Janae is the 2015 Women of the World Poetry Champion as well as a 2015 National Poetry Slam Champion. Her poetry has appeared in outlets such as ESPN, PBS Newshour, and Kinfolks: A Journal of Black Expression.
Janae wrote this poem to inspire National Teen Board members and spoke with them on how to use their authentic voices to change the world.
Who Should Join the National Teen Board?

We are looking for fearless high school activists who are passionate about ending social isolation, creating cultures of belonging, and fighting for social justice on a national level.
Applicants should be:
Ready to be a committed member of a dynamic team of youth activists
Excited to engage in leadership training
Enthusiastic about honing their public speaking skills
Dedicated to celebrating authenticity in themselves and others
Interested in building invaluable skills for college and beyond
What Do National Teen Board Members Do?
Every National Teen Board member serves on an Impact Project. These projects are a tremendous opportunity to learn from nationally known experts, engage in powerful trainings, and work with youth from across the country. The work done in these Impact projects is far reaching and focused on giving youth leaders the tools they need to build inclusive communities and bring about social justice.
Bring activist youth voices to the world
through podcasts and zines
Harness the power of social media
to build a movement
Bond youth across the country through
actions during Beyond Differences'
National Awareness Days
Gain the skills to lead activist trainings
and high impact actions across the country
Learn to use your voice to uplift younger activists and advocate for safe inclusive spaces for everyone
Build curriculum that celebrates
differences and ignites youth activists across the country
What is Activist Academy?*
Beyond Differences' Annual Activist Academy taking place June 23-26, 2022 will unite passionate youth activists from across the country for a packed 4 days of sharpening their leadership skills, building their impact projects, interacting with inspiring speakers, and bonding with fellow activists.
Activist Academy will give you the power to…

• Grab hold of new ideas and tools to electrify your activism
• Build a powerful resume reflecting both leadership and practical skills
• Perfect your public speaking skills
• Learn new perspectives on issues affecting youth from fellow activists
Entirely student-centered and led, Activist Academy is deeply committed to creating cultures of belonging and reflecting the diverse communities represented by the National Teen Board. Activist Academy is for everyone and will be made accessible to all National Teen Board activists through scholarships and
specialized accommodations.
*These events are virtual until the CDC allows for safe, in-person events
What happens after I apply?
•
YOUR APPLICATION IS REVIEWED BY THE DIVERSE MEMBERS OF THE NATIONAL TEEN BOARD AND BEYOND DIFFERENCES STAFF
• NEW MEMBERS OF THE BEYOND DIFFERENCES TEEN BOARD WILL BE NOTIFIED WITHIN TWO WEEKS OF THEIR INTERVIEW
We are here to help you through the application process. Please contact us at teens@beyonddifferences.org

Beyonddifferences.org | teens@beyonddifferences.org