New Curriculum Explores Immigrant and Refugee Challenges and Combatting AAPI Hate
National No One Eats Alone® Day is Friday, February 17, but at Beyond Differences®, we believe that every day is No One Eats Alone Day. Why? Because building a culture of belonging makes schools and communities stronger. When students feel connected and accepted for who they are, they show up for school and participate more in classroom discussions and extracurricular activities.
Beyond Differences has been working hard to end social isolation in youth by providing schools with original lessons and activities to help students cultivate valuable communication and behavioral skills that they can take into high school and their adult lives. This year, the in-class lessons will help students develop cognitive, emotional, and compassionate empathy. They will learn how to reflect and examine their own thoughts and feelings and strengthen their ability to empathize by apologizing in restorative ways. No One Eats Alone® Day gives students the tools they need to be social isolation disruptors and ambassadors of belonging.
"This year's No One Eats Alone lesson plans get to the root of social isolation by teaching students about empathy to build connection and belonging. Our Social and Emotional Learning (SEL) Teacher's Guide also includes FIRE: Foster Immigrant + Refugee Empowerment, a featured curriculum from our National Teen Board of high school students who have first-hand experience with these struggles, and created exercises and activities to promote acceptance and belonging for these communities," said Laura Talmus, co-founder and executive director of Beyond Differences.
Beyond Differences ships No One Eats Alone backpacks filled with everything schools need: lesson plans for teachers that dive deep into understanding social isolation, connection, friendship, mindfulness, effective communication, activism, inclusion, and more. The nonprofit also provides Conversation Cards and No One Eats Alone Bingo to break the ice and get to know each other, and materials for the interactive art projects – all free of charge.
This year, more than a million students and thousands of schools from all 50 states will celebrate National No One Eats Alone® Day. For more information, visit nooneeatsalone.org.
No One Eats Alone® is sponsored by Centene Charitable Foundation.
"Educating and empowering youth to promote inclusion continues to be a critical component in schools today," said Wade Rakes, president and CEO of Centene's Georgia market, Peach State Health Plan, and board chairman for Beyond Differences. "The Centene Charitable Foundation is proud to continue our partnership with Beyond Differences to celebrate No One Eats Alone Day to help combat social isolation in youth."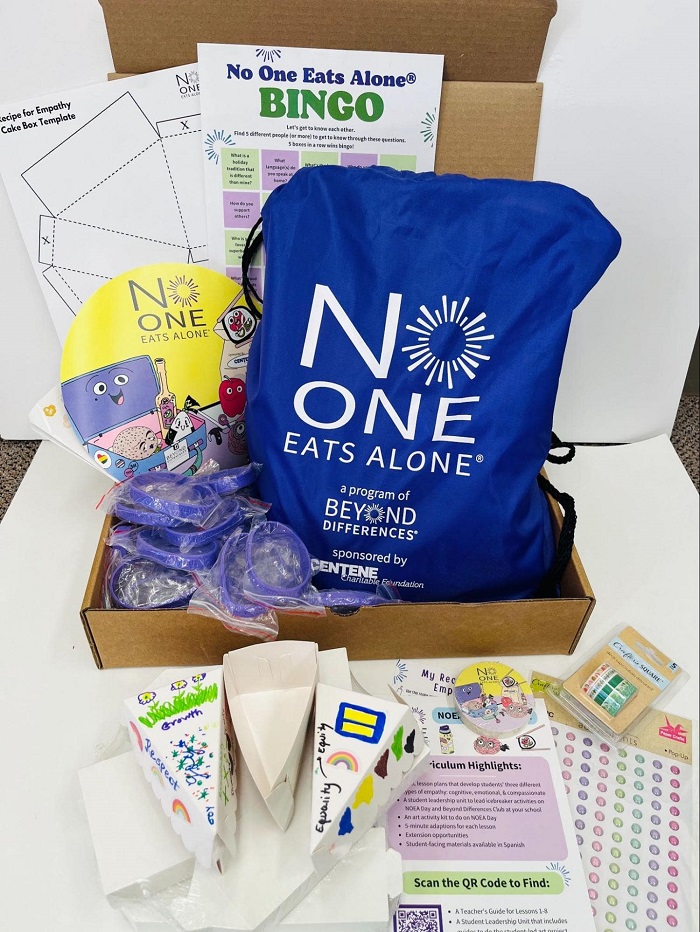 What's Included:
Cake slice boxes and templates
QR code for access to our digital teacher's guide
Washi Tape and stickers for decorating cake slices
Wristbands
One large sticker decal for making a mural/exhibit out of the cake boxes
1 Master copy of BINGO
The misson of Beyond Differences® is to inspire students nationwide to end social isolation and create cultures of belonging for everyone. We envision a world where all youth are accepted, valued, and included no matter their differences. Beyond Differences® offers FREE SEL curriculum, lesson plans, and supplies' to middle school educators all across the nation. Bring our programs to your school today!