The pandemic fueled a rise in xenophobia towards the AAPI community. Every day, more news covered stories about verbal and physical assaults. As a Teen Board member of Beyond Differences, I heard about an opportunity to share my story at a rally to bring awareness to this issue and elevate youth voices. It was at this rally that I met Mina Fedor, a 7th-grade student who was organizing the event in Berkeley, Calif., with a small group of her friends.

Since that day, she has been nominated and is a finalist for Time Magazine's Kid of the Year. She also inspired a new AAPI doll for American Girl. Everyone at Beyond Differences is rooting for her.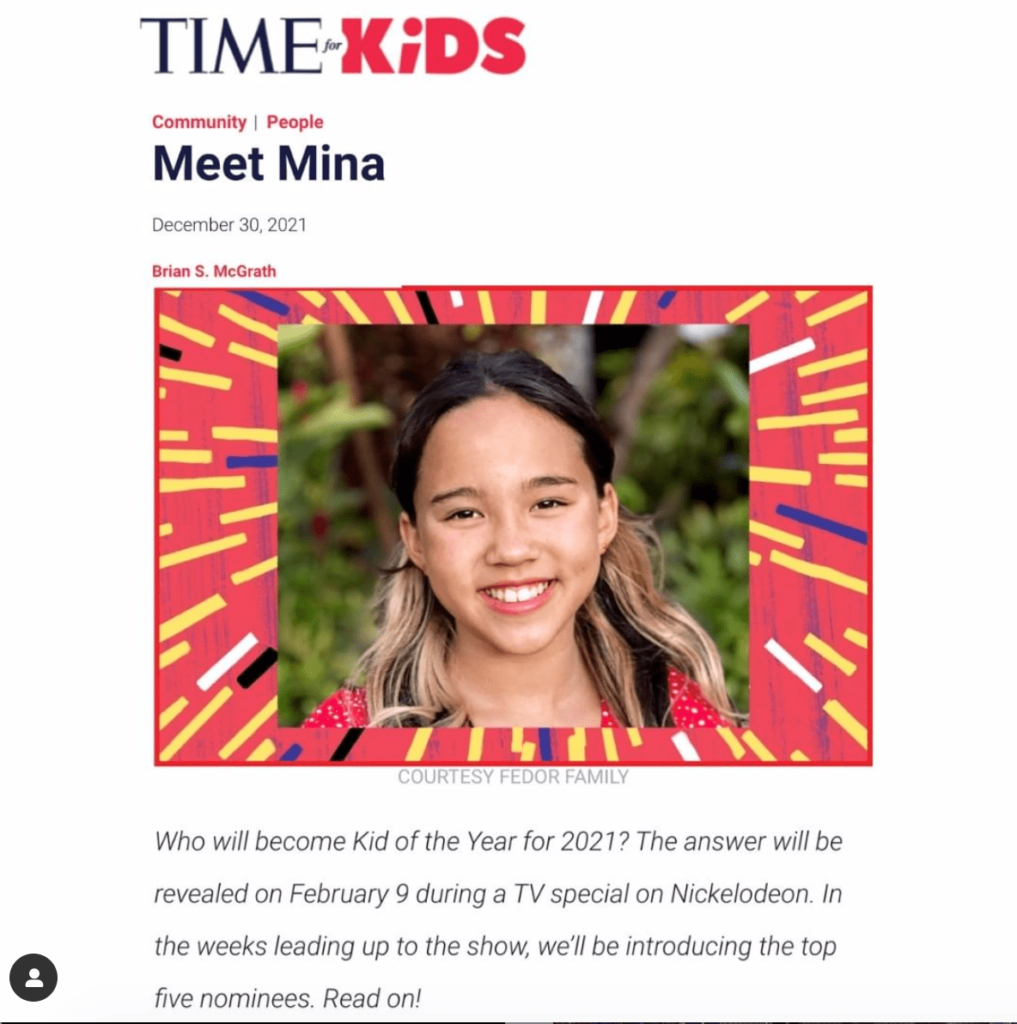 She is a great role model for youth, activist and organizer. Her rally was amazing! The whole idea of the rally came about after Mina noticed the experiences of those in her community and family and decided that she had to make a difference. She started by educating herself on xenophobia in her own community, and realized that she wanted to help others learn as well. She used the period of lockdown to educate herself and even took it a step further. She formed a group called AAPI Youth Rising.
On March 28, 2021, Mina held her first rally with her new group, AAPI Youth Rising, a Bay Area-based youth organization dedicated to helping educate people about the AAPI community. She had modest expectations for her first event.
"I expected 70 individuals, because that's how many people registered on our Eventbrite. But those spots filled up, so we had to open up our Eventbrite to 200 people. We were really expecting 200 people at the most. It was a pleasant surprise when 1,500 people came!"
At Mina's first rally, she created a space to spotlight youth voices with multiple speakers and led a march. It was such an amazing event that more and more opportunities began to spring up.
"After we did our first rally, we spoke at a few more. But then, we wanted to spread our work further," Mina said. "So we started the 1/180 pledge related to teaching AAPI history. Ten states already have AAPI education initiatives, and we wanted to spread those lessons."

To Mina, one of her favorite things about AAPI Youth Rising is the impact she makes on youth.
"I worked with American Girl on their new doll, Corinne. Many young people really see themselves in Corinne in a way they never had. That was really cool to see."
When asking Mina about her future plans, she said, "Well, I think people expect me to want to go into politics or something similar, but I'd really love to go into science…neuroscience, to be more specific. But activism is something I want to keep pursuing. I love all the work AAPI Youth Rising does."
Mina also has advice for those who want to do what she does. "Start by educating yourself before starting projects, and find things to speak about that you are truly passionate about. And of course, don't be afraid to ask for help."
Author: Harita Kalvai
Beyond Differences Teen Board Member

Beyond Differences' mission is to inspire students nationwide to end social isolation and create cultures of belonging for everyone. We envision a world where all youth are accepted, valued, and included no matter their differences. Beyond Differences offers FREE SEL curriculum, lesson plans, and supplies to middle school educators all across the nation. Bring our programs to your school today!

The Beyond Differences National Teen Board (NTB) is a dynamic network of passionate high school activists from across the country leading Beyond Differences' fight to stop social isolation through youth leadership and social justice.