Beyond Differences is introducing our new ABCs of Transformative Social Emotional Learning (T-SEL). It outlines 26 important elements of creating a T-SEL space to which educators can refer. This poster shows practices, reminders, frameworks, and programs that we utilize and advocate in our work with youth. Look out on our social media platforms and our new Beyond Differences Learning Community for links and resources about how we use each one.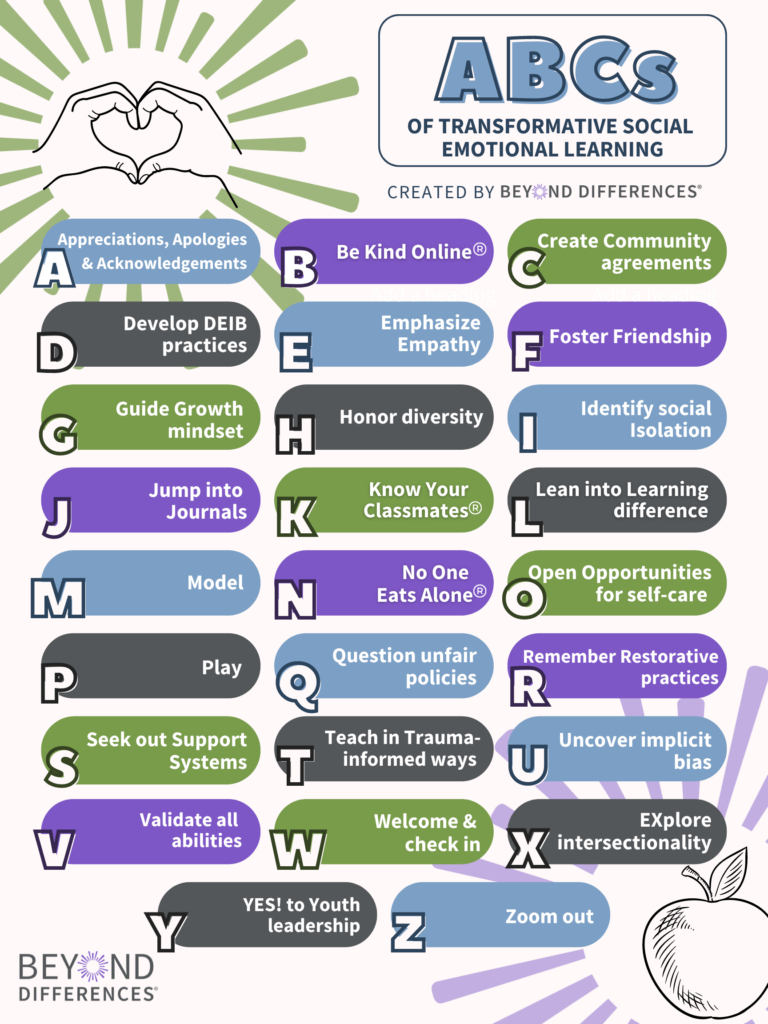 What is Transformative Social Emotional Learning? CASEL (Collaborative for Academic Social & Emotional Learning) defines T-SEL as
"a process whereby young people and adults build strong, respectful, and lasting, relationships that facilitate co-learning to critically examine root causes of inequity, and to develop collaborative solutions that lead to personal, community, and societal well-being. This form of SEL is aimed at redistributing power to more fully engage young people and adults in working toward just and equitable schools and communities. It emphasizes the development of identity, agency, belonging, curiosity, and collaborative problem-solving within the CASEL framework."
At Beyond Differences, we believe that empowering students to co-create change with their communities is a fundamental building block to ending social isolation and sustaining cultures of belonging. We use a DEIB (Diversity, Equity, Inclusion & Belonging) lens to work with students and educators in creating safe school spaces where students feel seen, heard and supported.
These 26 elements that we find valuable are a great starting point and among the many guidelines you can implement to create relationships with your students. They also can serve as an inspiration to tailor discussions, regular practices, and activities to your classroom. You can find more resources at CASEL and your local state or district education agency.

The misson of Beyond Differences® is to inspire students nationwide to end social isolation and create cultures of belonging for everyone. We envision a world where all youth are accepted, valued, and included no matter their differences. Beyond Differences® offers FREE SEL curriculum, lesson plans, and supplies' to middle school educators all across the nation. Bring our programs to your school today!