Sign up today to receive the all new Know Your Classmates® resources this fall! (It's FREE!) 
ABOUT KNOW YOUR CLASSMATES
®

(KYC)

Know Your Classmates® is a school-based Social and Emotional Learning (SEL) curriculum, an advocacy campaign and a national awareness day. KYC was created to address the challenge of how we, as educators, help middle school youth become more self-aware about their own family's identity, traditions and culture while learning acceptance, inclusion and respect for their classmates as well.

This initiative underscores the fact that marginalizing one group of children based on nothing more than their faith, religion, identity, race or ethnicity must not be ignored in school communities because it affects every child.

National Know Your Classmates® Day is on October 14, 2022! Join thousands of schools across the nation in celebrating!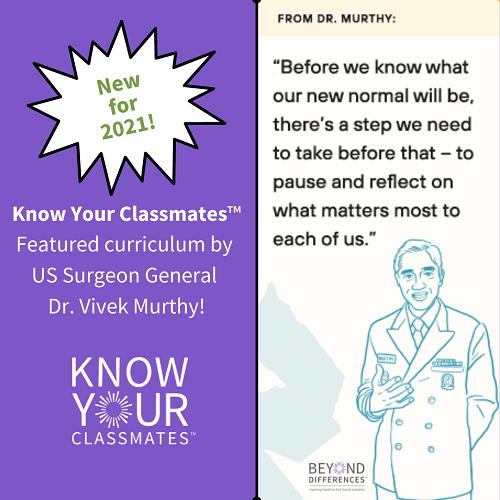 The KYC curriculum can be used any day of the year! Register your school now to be the first to get access to our updated lesson plans, student leadership materials, videos, and presentations as soon as they are released!
Know Your Classmates® was originally created by Beyond Differences® in partnership with the Islamic Networks Group in 2016 to combat the rise of hateful language and bullying against Muslim-American children in the run-up to the Presidential election.
Middle School educators, we invite you to sign up to receive the FREE comprehensive SEL Toolkit which includes: 8 lesson plans written by educators and teen leaders, student-led activities designed to teach organizing and leadership skills, and instructions for celebrating a student-led national awareness day, Know Your Classmates® Day! The new KYC Toolkit will be hybrid and can be used for remote learning or in classroom learning.
We will also be shipping KYC Activity Kits filled with supplies to celebrate KYC Day! The KYC Activity Kits will be available on a first come first serve basis and will be shipped in September and October. Sign up today to reserve your box!
All lesson plans align with Common Core ELA standards and CASEL SEL Competencies. Know Your Classmates® Day will reach more than a million students across the nation!
Join the campaign to build strong, inclusive communities and help students understand, accept and embrace their differences.
Highlights of this program:
Video lesson plans taught by high school students for middle school students.
Curriculum written by experts on racial justice, equity, social and emotional learning, mental health and well-being, and social isolation issues.
References to videos for student discussions.
Resource Page for Educators.
All student facing worksheets and presentations available in Chinese and Spanish.
If you have any questions please email our Director of National Programs at Info@BeyondDifferences.org