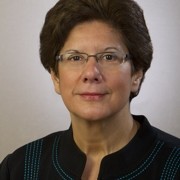 Joyce Aboussie
St. Louis National Advisory Board Member for Beyond Differences
Fueled by a passion for innovation and change, Joyce Aboussie has been a lifelong entrepreneur and leader in the St. Louis community.
She is the founder of Aboussie & Associates, a consulting and management firm that brings the strategic mindset of a political campaign to clients in the public and private sectors, from Fortune 500 corporations to NGOs.
She was the National Politcial Director for the 2004 presidential campaign of Congressman Dick Gephardt (D-MO), and has in total worked on over 500 campaigns in all levels of government since 1978. In addition to business and politics, Joyce is also committed to the continued advancement of social good.
Along with her role as St. Louis National Advisory Board Member for Beyond Differences, she has also been on the Board of Directors of ALSAC/St. Jude Children's Research Hospital since 1983, when she became the youngest sitting member.
For more information on Joyce, find her on social media Twitter|Pinterest|LinkedIn