Stand Up for AAPI Youth During COVID
National Advocacy Campaign and Back-to-School Curriculum
WE ARE CALLING ON EVERY SCHOOL IN THE UNITED STATES TO ADOPT THE STAND UP FOR AAPI YOUTH CAMPAIGN TO INSPIRE ALL STUDENTS TO GET TO KNOW AND STAND UP FOR THEIR CLASSMATES.
#StandUp4AAPIYouth is a project of Know Your Classmates® in partnership with Beyond Differences® and Community Youth Center (CYC).
Background of Campaign
Know Your Classmates®, a Transformative Social and Emotional Learning (SEL) curriculum and national advocacy campaign, was originally created by Beyond Differences® and the Islamic Networks Group in 2016 to combat the rise of hateful language and bullying against Muslim-American children in the run-up to the Presidential election. This initiative underscored the fact that marginalizing one group of children based on nothing more than their faith, religion, race or ethnicity must not be ignored in school communities because it affects every student.
Sadly, we are seeing a new population of young victims — Asian American Pacific Islander (AAPI) children. The COVID pandemic and current political climate has fostered racially-fueled attacks across the country against these children and their families.
This is no joking matter:
AAPI children are being treated like they have the plague
Age groups being affected are elementary, middle and high school
The attacks are taking shape as bullying, physical assault and trauma
Certain  officials and members of the Administration refer to the Coronavirus as Kung flu
Learn more and get involved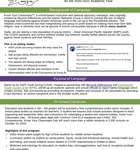 In The News!
Educators, Parents and Students bring Know Your Classmates® to your school this fall! Sign up today to receive the all-new 2020 Know Your Classmates® resources featuring new Stand Up for AAPI Youth During COVID lesson plans HERE.