Regional Programs
SF/Bay Area
San Francisco Bay Area Regional Programs & Teen Board of Directors
Marin Regional Program & Teen Board
Marin County is Beyond Differences' national headquarters, and where we launched our first regional youth leadership program for teens.
Most Marin County public middle schools participate in our national initiatives, and 121 students have served on it's Teen Board of Directors since it began in 2010. The program has received support from many individual donors who are Marin county residents and from elected officials including Marin Superintendent of Schools, Mary Jane Burke.
Oakland Regional Program and Teen Board
The Oakland Regional Program & Teen Board was launched in 2016 with 24 teens participating as members over the last 5 years.  With the generous support of the Koret Foundation, Beyond Differences hired a Regional Program Manager and increased impact in Oakland in a more concentrated way.  We were able to support Oakland Unified schools, teachers and youth through our Social-Emotional Learning (SEL) curriculum and in a deeper way through student-led presentations, educator coaching/training and once the pandemic hit through online Zoom Teen Board meetings.
Teens and older middle school students used their leadership skills and became role models for their younger middle school peers in creating cultures of inclusion and reducing social isolation.
Current Teen Board Model – a blended group of Marin and East Bay Teens 
This past summer the Oakland/East Bay and Marin Teen Boards merged for virtual weekly meetings. At first they talked about being depressed and stressed, their feelings about in-person graduation ceremonies and summer plans being cancelled. Understandably this was not what they had hoped for and they could see that summer and possibly the next school year would be spent largely inside isolated from each other. With Regional Program staff as coaches and moderators, teens had the space to discuss difficult topics like racial injustice and (the effects on them personally, in their schools and communities), the school to prison pipeline, poverty, and more. These conversations also included meditation and reflective activities to encourage healing during this time.
The merging of these two teen boards illustrated for us the importance of bridging the cultural differences between students right here in the San Francisco Bay Area. These two teen boards remain merged and now meet monthly throughout the school year with the goal of empowering them to become leaders and activists and to support each other with concerns and common struggles. Teens provide mentorship and training for younger middle school age peers, educators and the general public on how to identify and end social isolation and create a culture of belonging and identify calls to action.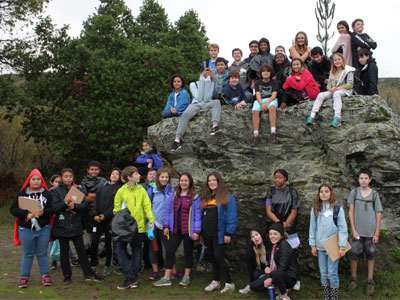 Through Beyond Differences Student Leaders:
Gain Social-Emotional skills (SEL)
Receive training on public speaking and leadership
Learn how to be a social isolation disruptors
Become Mentors and Role Models (of older youth towards younger youth)
Meet other youth leaders from different schools
Become part of a national organization working to end social isolation and create inclusive school environments where all youth feel a sense of belonging.
Participate in Community Service Events and speak at Youth Leadership Conferences
For more information about Beyond Differences, SF Bay Area Regional Programs and High School Teen Board of Directors please contact one of our Regional Program Managers.
David Tarpinian, Marin Regional Program Manager davidtarpinian@beyonddifferences.org
Dr. Louise Malandra, Oakland Regional Program Manager louise@beyonddifferences.org
Bolinas-Stinson, Bolinas, CA
Mill Valley Middle, Mill Valley, CA
Novato Charter, Novato, CA
Venetia Valley, San Rafael, CA
Miller Creek, San Rafael, CA
Sinaloa Middle, Novato, CA