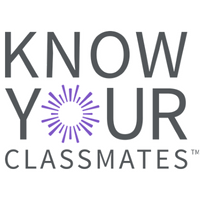 ABOUT KNOW YOUR CLASSMATES
WE ARE CALLING ON EVERY SCHOOL IN THE UNITED STATES TO ADOPT THE STAND UP FOR AAPI YOUTH CAMPAIGN TO INSPIRE ALL STUDENTS TO GET TO KNOW AND STAND UP FOR THEIR CLASSMATES.
Know Your Classmates™ (KYC) is a school-based curriculum, national advocacy campaign and national awareness day that was originally created by Beyond Differences in partnership with the Islamic Networks Group in 2016 to combat the rise of hateful language and bullying against Muslim-American youth in the run-up to the Presidential election. This initiative underscores the fact that marginalizing one group of children based on nothing more than their faith, religion, identity, race or ethnicity must not be ignored in school communities because it affects every child.
It was created and designed to address the challenge of how we, as educators, help middle school youth become more self-aware about their own family's identity, traditions and culture while learning acceptance, inclusion and respect for their classmates as well.
Sadly, we are seeing a new population of young victims — Asian American Pacific Islander (AAPI) youth. The COVID pandemic and current political climate has fostered racially-fueled attacks across the country against these youth and their families.
This is no joking matter:
AAPI students are being treated like they have the plague
Age groups being affected are elementary, middle and high school
The attacks are taking shape as bullying, physical assault and trauma
Certain elected officials and members of the Administration have referred to the Coronavirus as the "Kung flu"
#StandUp4AAPIYouth During COVID was created in partnership with Beyond Differences and Community Youth Center of SF (CYC) to lift up all students, parents and school officials to reject hateful language which creates anxiety, fear and trauma by promoting acceptance, respect and inclusion of all classmates by operating in two domains: on school campuses and in the broader public arena.
National Know Your Classmates Day is on October 23, 2020. Inclusive communities are safer and healthier communities!
Educators and students in 5th – 8th grades will receive a FREE comprehensive virtual toolkit which includes: 8 lesson plans written by teachers and teen leaders, 3 student-led activities designed to teach organizing and leadership skills, and instructions for celebrating a student-led national holiday, Know Your Classmates Day. The new KYC toolkit will be hybrid and can be used for remote learning or in classroom learning. All lesson plans align with Common Core ELA standards and CASEL SEL Competencies. Know Your Classmates Day will reach more than a million students across the nation!
Highlights of this program:
Video lesson plans taught by high school students for middle school students.
Curriculum written by experts on racial justice, equity, social and emotional learning, mental health and well-being, and, social isolation issues related to COVID requirements to shelter-in-place.
Worksheets and references to videos for student discussion translated into multiple languages.
Resource Page for Educators.
All student facing worksheets and presentations available in Chinese and Spanish.
Join the campaign to build strong, inclusive communities and help students understand, accept and embrace their differences.
Bring Know Your Classmates to your school this year. We're so thrilled that schools in all 50 states have participated! We encourage you to plan and host your own Know Your Classmates activity day. Sign-up for Know Your Classmates Day 2020 happening on October 23, 2020!
Click here to read about our new campaign for Know Your Classmates 2020: Stand Up for AAPI Youth During COVID
ABOUT BEYOND DIFFERENCES
Beyond Differences was founded by the parents of Lili Smith who was born with a cranial facial syndrome and was socially isolated during her middle school years. After Lili died at the age of 15 due to medical complications from her syndrome, a group of teens from the local community banded together to bring change to their local schools. They had not realized that they had been leaving Lili out from all the fun social get-togethers. But upon hearing about Lili's feelings of being left out, they were determined to never let anyone feel that way again!
Beyond Difference's core principle is to inspire and empower students to end social isolation in middle school through online and campus programs. We work directly with students – with the support of their teachers and administrators – because they are the real activists who can ensure acceptance and inclusion of one another. We are passionately focused on supporting youth in this process of making their middle schools more socially inclusive and less socially isolating.